HairConfirm® Hair Drug Test Collection Kit is available for purchase at your local CVS Pharmacys®.
2
Register, collect, and Send
Register your collection kit online, collect your hair sample (collection guide), and mail your sample with the included pre-paid envelope.
Receive your confidential results online through your secure portal. Results are available 3-9 days after mailing the sample.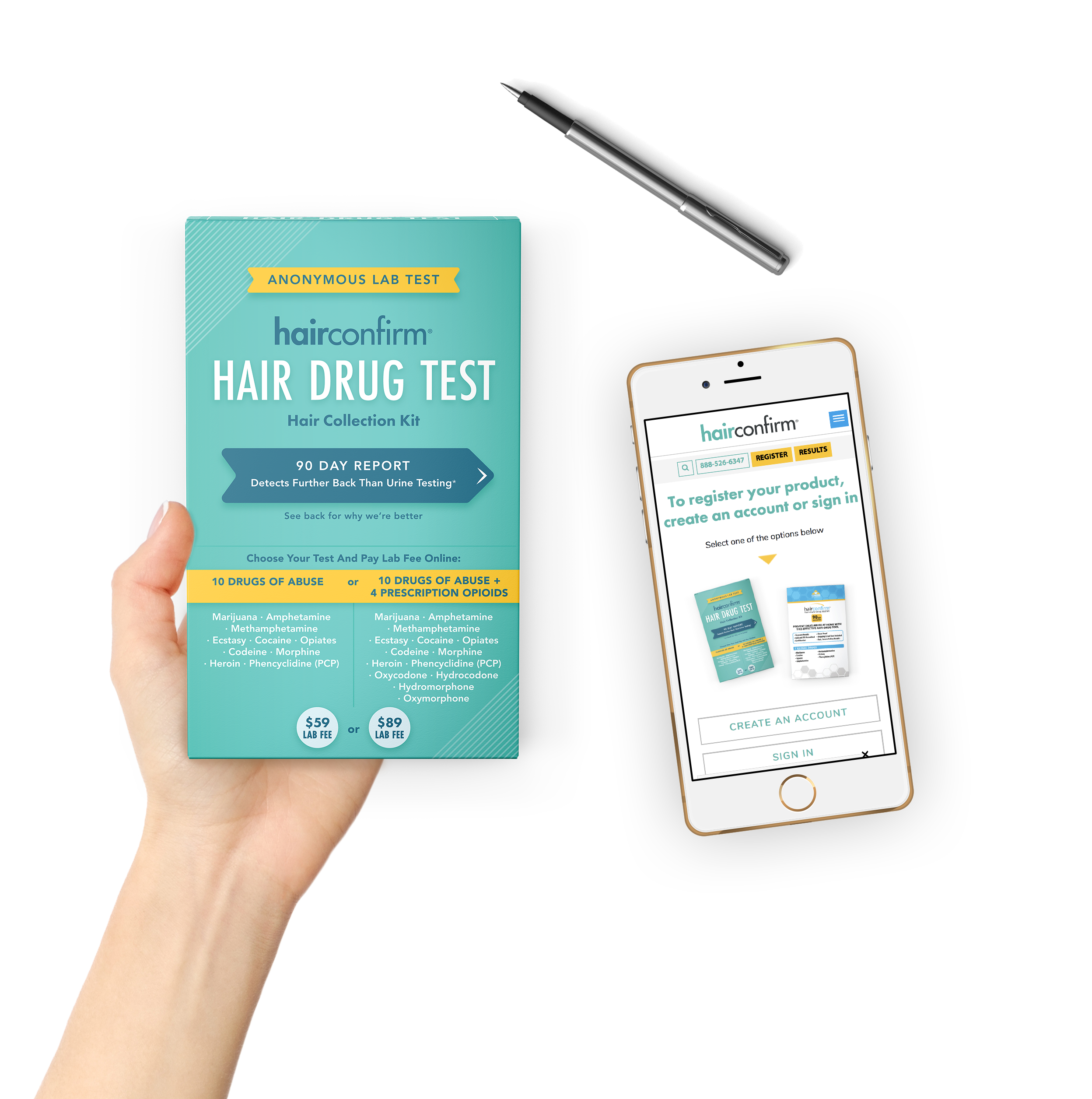 This hair test kit provides the necessary materials for proper specimen collection.
Read the instructions carefully before collecting your hair sample.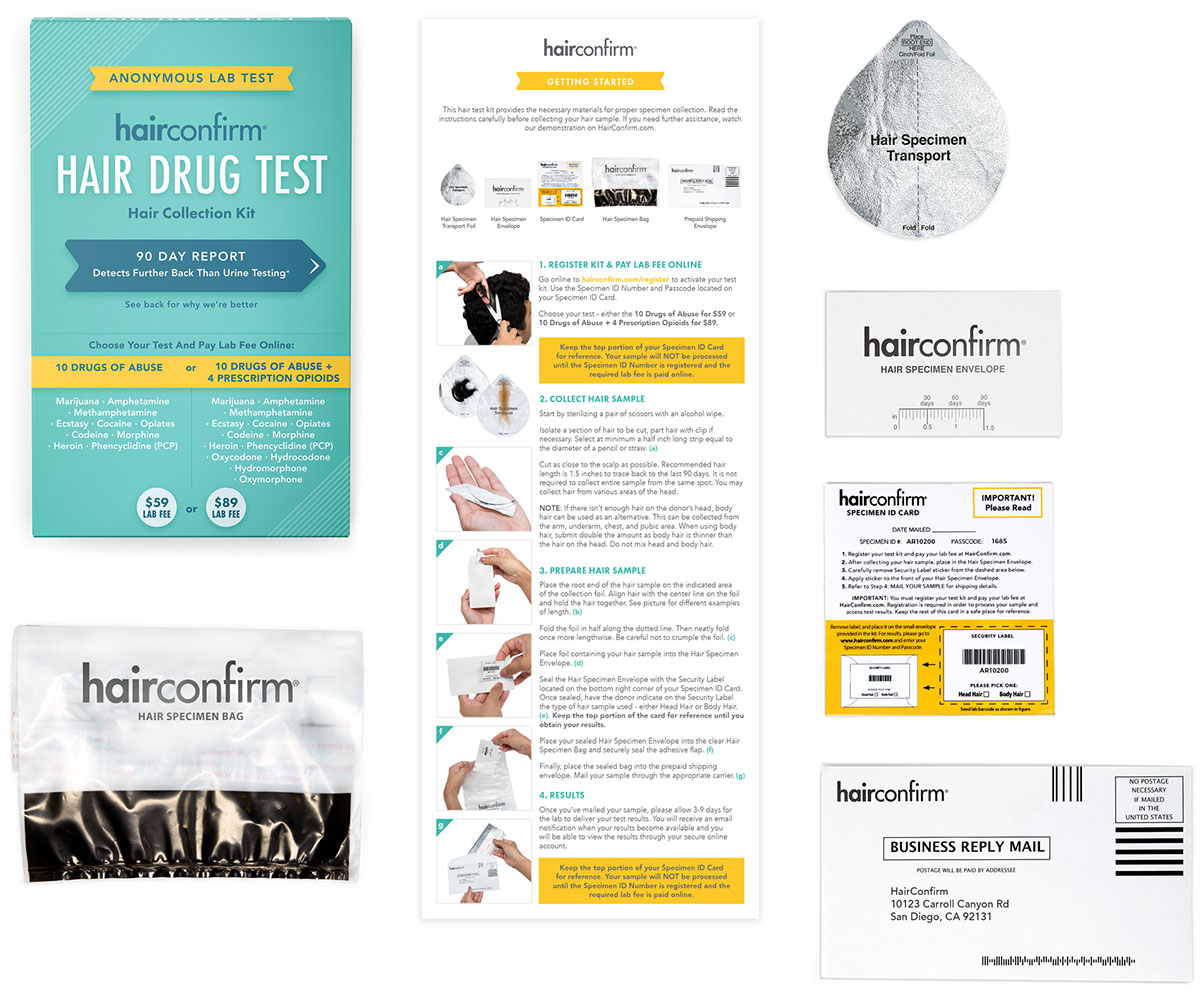 Hair Sample Collection Instructions
Hair Specimen Transport Foil
Prepaid Shipping Envelope
How to collect a hair sample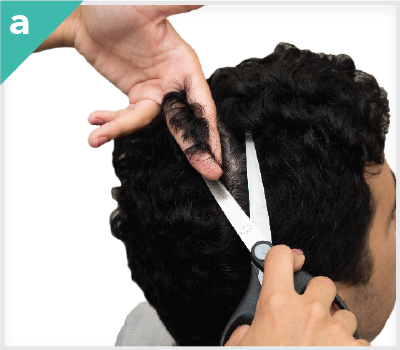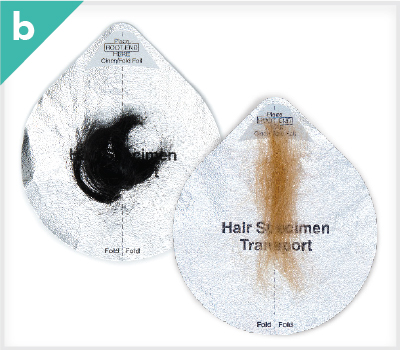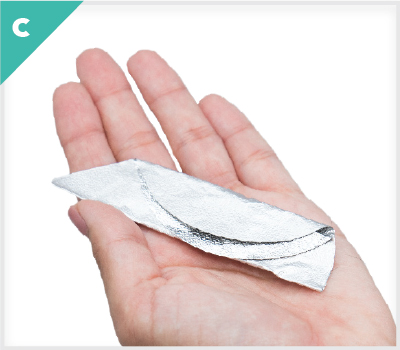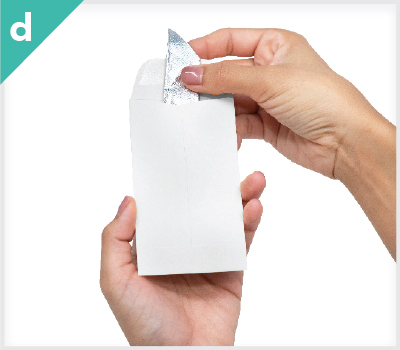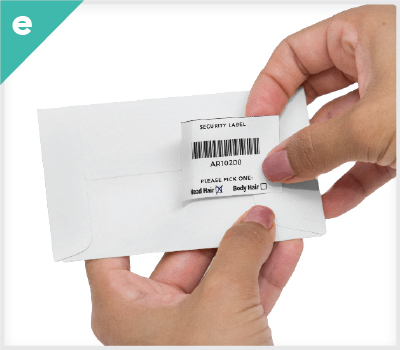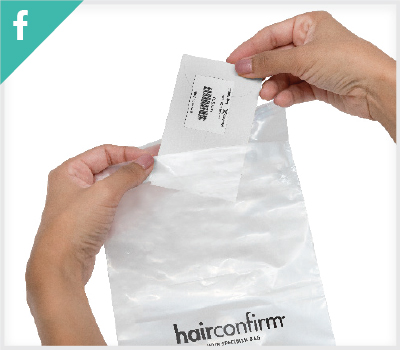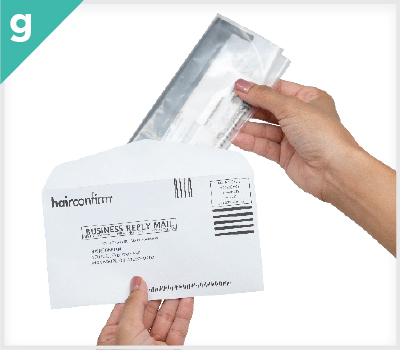 1. Register Kits & Pay Lab Fee Online
Go online to hairconfirm.com/register to activate your test kit. Use the Specimen ID Number and Passcode located on your Specimen ID Card.
Choose your test - either the 10 Drugs of Abuse for $59 or 10 Drugs of Abuse + 4 Prescription Opioids for $89.
Start by sterilizing a pair of scissors with an alcohol wipe.
Isolate a section of hair to be cut, part hair with clip if necessary. Select at minimum a half inch long strip equal to the diameter of a pencil or straw. (a)
Cut as close to the scalp as possible. Recommended hair length is 1.5 inches to trace back to the last 90 days. It is not required to collect entire sample from the same spot. You may collect hair from various areas of the head.
Refer to the collection guide to make sure the sample size is sufficient.
NOTE: If there isn't enough hair on the donor's head, body hair can be used as an alternative. This can be collected from the arm, underarm, chest, and pubic area. When using body hair, submit double the amount as body hair is thinner than the hair on the head. Do not mix head and body hair.
Place the root end of the hair sample on the indicated area of the collection foil. Align hair with the center line on the foil and hold the hair together. See picture for different examples of length (b).
Fold the foil in half along the dotted line. Then neatly fold once more lengthwise. Be careful not to crumple the foil (c).
Place foil containing your hair sample into the Hair Specimen Envelope (d).
Seal the Hair Specimen Envelope with the Security Label located on the bottom right corner of your Specimen ID Card. Once sealed, have the donor indicate on the Security Label the type of hair sample used - either Head Hair or Body Hair (e). Keep the top portion of the card for reference until you obtain your results.
Place your sealed Hair Specimen Envelope into the clear Hair (f).
Finally, place the sealed bag into the prepaid shipping envelope. Mail your sample through the appropriate carrier (g).